Football wasn't a girl's game for my villagers but I had proved otherwise: Manisha
Donning the Indian jersey was all Manisha had dreamt of for these years. The 17-year-old, who started playing football with young boys of her village in Punjab's Hoshiapur, is touted as the rising football star in the country. But Manisha had to pass through several odds before she earned a place in the India women's senior national football team. She speaks about her journey so far to KC Arun.
Manisha, You were an athlete in your early days. Why did you switch to football later? How has athletics helped in moulding the footballer in you?
I was active in sports from my childhood and began my atheltics training from class 7. We were trained at our school playground. During those times, I loved watching boys playing football. One day, my sports teacher asked whether I wanted to play football and I said yes.  It made all the difference. I was one among those selected from school for the district team selection trials. Since then, it was an eventful journey.
I made it into the district team. Eventually, I passed each selection trials to find a place in the national team. Athletics training has been really helpful for me. Also, my elder sister was a good football player at school. She supported me well and even helped with my training and practice. Her strict commands have been crucial in sharpening my skills.
You are now recognized as the rising star of India women's national football team. Could you share your aspirations as an emerging soccer player?
I am proud to represent my country. It is a great privilege to be part of the national team. And when it comes to my performance, I just try to give my best all the time. And if you ask me about my dream it would be to play the FIFA World Cup, one which every footballer dreams about.
You are the youngest member of the national women's football team. How was your experience of tying boots for the Indian senior team for the first time?
I had always cherished the dream of playing for India. It is a different feeling altogether. A very proud moment. So when I got a call confirming my selection to the Under-17 national team, I was very happy. All were very happy for me. My parents were so happy that they were jumping and dancing. My teachers and school mates congratulated me. It was one of the best moments in my life which I would carry till the end.
You have struggled a lot to reach this stage. There were many obstacles in your path. Especially, the hostilities of villagers who were against a girl playing football. How did you overcome these situations?
It is not normal in my village for a girl to play football. Football is seen as a game for boys. We have an annual football tournament in our village for boys. So when I started playing with other boys, the whole of the village was against it. They complained about me to my parents and tried to persuade them to ask me to stop playing the game. But my parents supported me. They didn't let these negativities affect me. They encouraged me and pumped me with the immense energy and mental strength to face those criticisms.
It would not have been easy if they had not supported me. I owe to my parents for my success. Even when the villagers continued to criticise my family and me, I just focused on my game. Every day I went to my academy for training in the morning and played with the boys of the village in the evening. Once I completed my eighth standard, my parents secured me an admission in another school, where there was a football academy. It was too far from my village. But I faced discrimination even there.
The teachers of the school discouraged me from playing football. They said it was not a girl's game. They restricted me from playing with the boys. But now it has all changed. Everyone recognise me as a national football player. I thank my parents for all their support devoid of which I would not have reached anywhere. I would have stumbled upon those criticisms and would never have chased my dream of playing for India.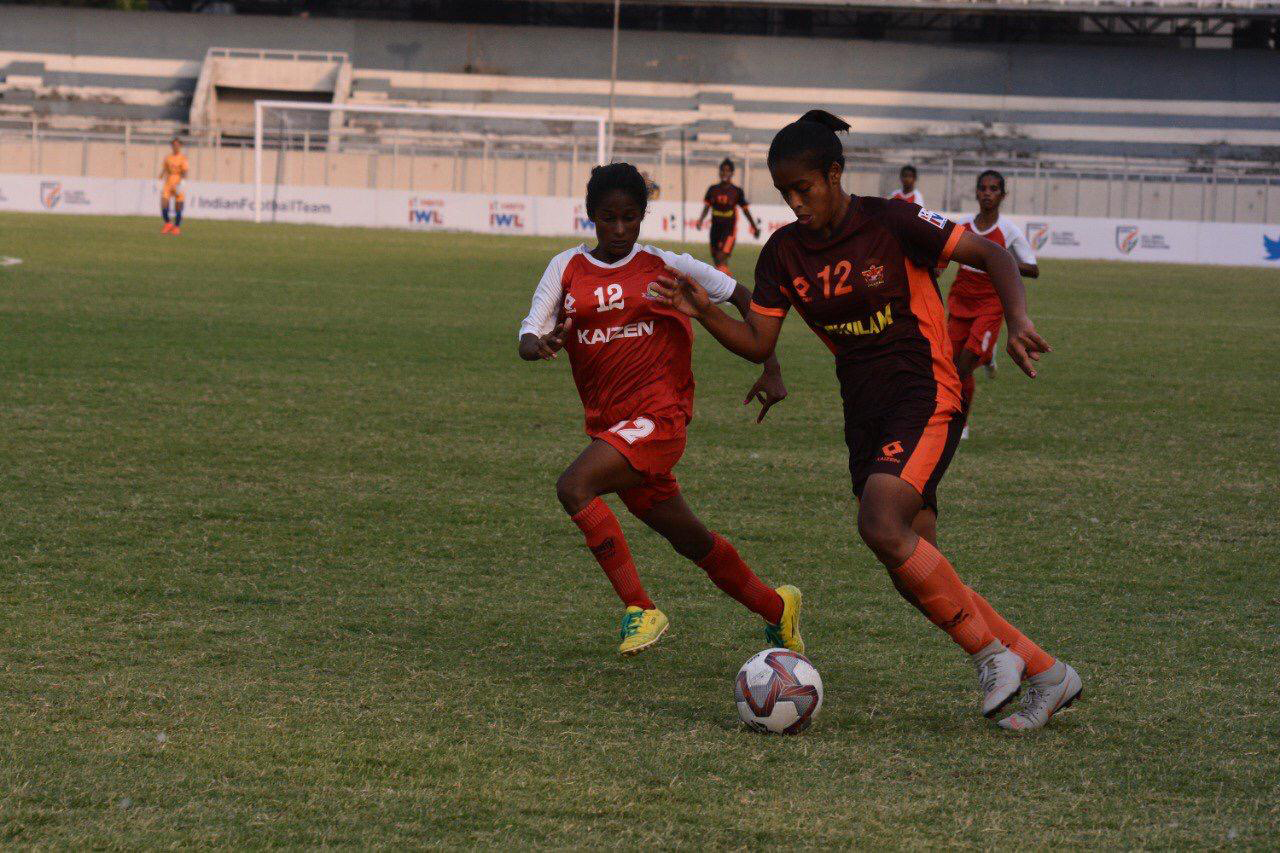 How did you find the finance for training?
There are four children in our family. I am the youngest one. My two elder sisters are working. My father doesn't work since he met with a major accident a few years ago. There were financial constraints in the family. But it has never affected my training. My sisters were really supportive and they hid all their desires to fulfill my dream and get me proper diet and training. My training was their priority. They shared my dream of becoming a national football player. I consider myself a very lucky girl to have a supporting family.
Has your success helped in changing the minds of your villagers?
One since I was selected to the national team, my villagers started supporting me. They do not oppose or criticise me anymore. They are all very cooperative and encouraging.
How did you became a part of Gokulam FC? Is there any difference when you play for India and for a professional club?
After getting inducted to the national team, one day I received a call from Bali sir, a member of Punjab Football Association. He asked me whether I would like to join Gokulam Kerala FC. And I did. There is no much difference between playing for the country and a club. It is a pride to represent your country. But it is a personal feeling. What matters is our performance whether you are representing India or a professional club.
Every footballer works hard to improve his skill and tactics and tries to give his/her best out there on the field. It's just the same for me. I try to give my best and contribute to the fullest of my abilities. It is all about winning a game for the team and giving your best performance or becoming that crucial person who has contributed to the victory of the team.