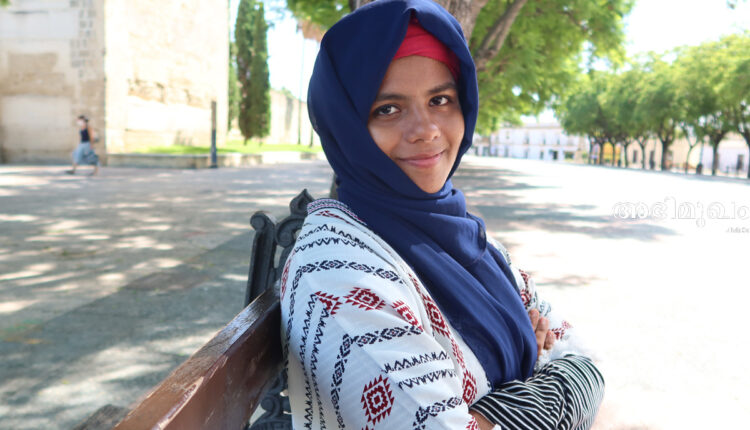 Jushna Shahin: The Kannur girl whose dream of meeting Messi took her to Camp Nou
Born into a family of football lovers, it was natural for 25-year-old Jushna Shahin from Kannur's Pappinisseri to fall in love with the game. Her earliest memory of watching football on a screen is the 2002 FIFA World Cup, when She was barely six years old. The game, since then, has had a powerful influence over her.
A die-hard Lionel Messi fan, it is her dream to meet and interview him. While others perceived it as a silly childhood dream, Jushna never let the fire in her get doused. She ignited it passionately by extensively reading about Messi and even learned Spanish.
After completing her post-graduation in MA Spanish Language and Literature from Jawaharlal Nehru University (JNU) in Delhi, she grabbed an opportunity to go to Spain on an academic exchange programme offered by the nation's Ministry of Education. Presently she is working there as an Auxiliar de Conversación (Language and Cultural Assistant) at IES Andres Benitez High School. She aspires to become a sports journalist and cover the 2022 FIFA World Cup to be held in Qatar, where she dreams of meeting Messi and interviewing him.
Jushna speaks to Jestin Abraham of Abhimukham.com about her passion for football, influences, and the journey so far.
How did you become so passionate about the game?
My earliest memory of watching football is the 2002 FIFA World Cup. I vividly remember watching matches with my family. Ours was a joint family then. We used to live in our ancestral home at Mangad in Kannur. All of our family members loved football. My grandfather was an ardent Brazil fan. My father is a journalist who is fond of football, and my mother is a die-hard Zinedine Zidane fan.
So whenever there was a match, we used to sit together and watch it. During the early days, I did not know the rules of the game. But something drew me towards it. I started to learn more about the game and watched football whenever possible.
Messi started playing around the same time, and I developed a liking for him. He was a budding player then. My love for Messi made me an Argentina and a Barcelona fan. I am a die-hard Messi fan and used to cut out his pictures from newspapers and sports magazines and paste it on my school books. I also started to read about Messi extensively and learned more about the game.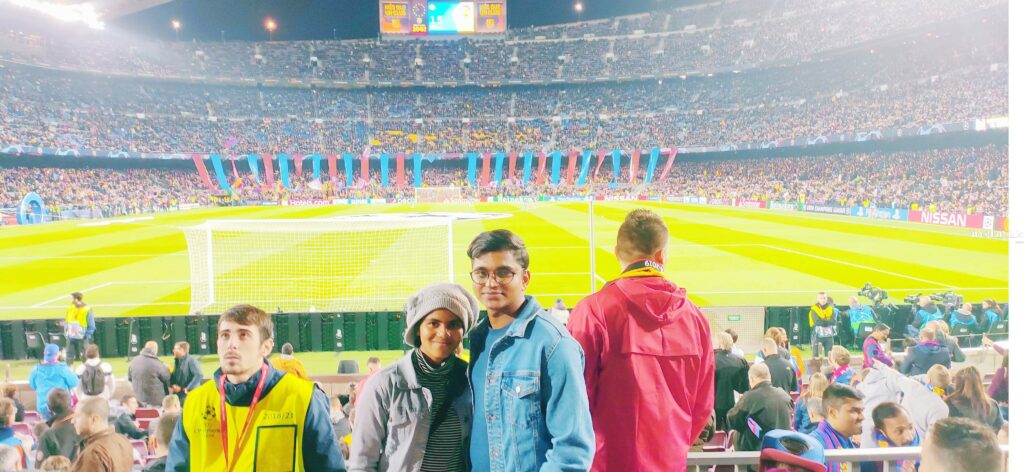 Northern Kerala is known for its football fervour. How is the passion for football among women around your place?
Football is life and breath for many people here. They are very passionate about the game. We have public screenings of matches during the World Cup. Huge flex boards of players and teams are a common sight during the time. Club-level competitions are often held, and it draws a large crowd.
I do not know whether a majority of women in North Kerala are also into football. But in my house, my mother and others watch football on TV. I haven't seen them going out to see a club match, but all of them are very passionate about the game. I believe many other women also love football.
Do you play football? Why didn't you aspire to become a footballer?
I had dreamt of becoming a football player during my childhood days. I wanted to play football and learn it. But there was no opportunity in our place for me to learn to play the game. Even at my school, football wasnot an option for girls. There were other sports.
Maybe this prompted me to read more about football. I used to spend hours in front of the TV to watch games. At school, I used to watch interviews of players online. All of this inspired me to become a sports journalist.
Was your family supportive?
My family has been very supportive. I am married now. And I am lucky that my husband and even my in-laws support and respect my passion for football. I couldn't have reached so far without them.
During my childhood, I spent hours in front of the TV. Later, when we moved to our new house in Pappinisseri, there was no television there. I still remember begging my father to buy one. When I got one, my mother was strict. She used to limit my screen time.
But my parents became a bit scared when I started fighting with my classmates over football. Then, my mother told me to concentrate more on studies. She even dissuaded me from cutting out photos of football players and pasting it on my school books. But that was just a phase. Later, when I grew and wanted to pursue Spanish and become a sports journalist, they supported me.
I still remember, once we moved to our new house from our ancestral home, and there was no TV in my house, my grandfather used to call me over the phone and tell me about the matches. He knew I could not watch matches and would like to know about it.
I got selected for the exchange programme in Spain after my marriage. My husband and in-laws were very encouraging and motivating. I am lucky to have them in my life.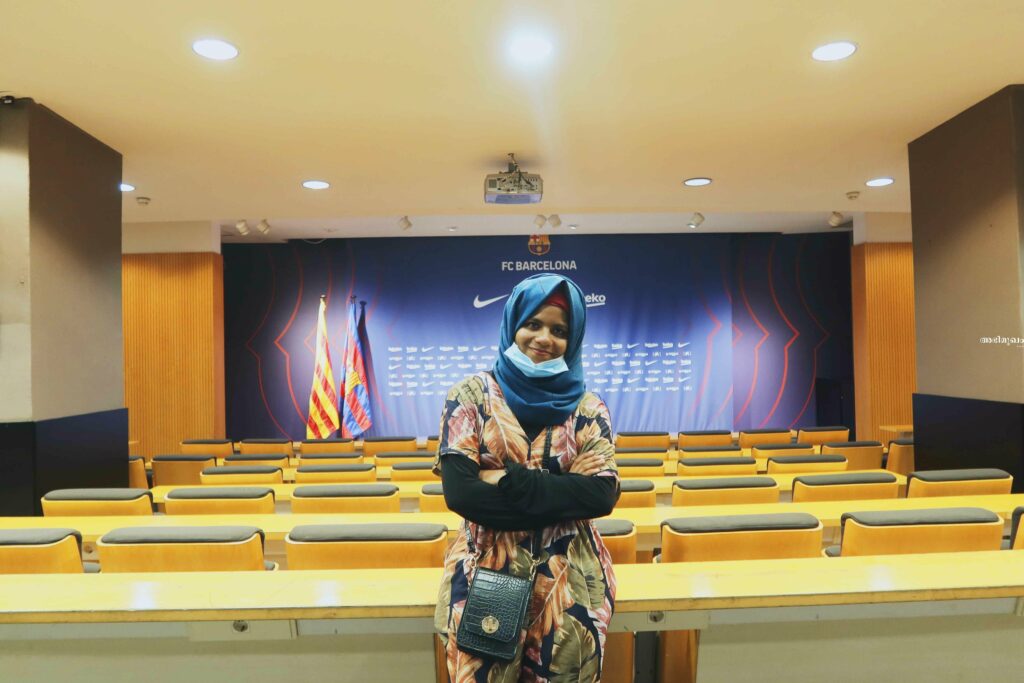 You are an Argentina fan, but your grandfather was an ardent Brazilfan. Do you use to fight with him?
I have very sweet and enlivening memories of my grandfather. I became an Argentina fan to irritate him. I remember annoying him saying that Brazil was an under-performing team. It was all fun. I still remember my grandfather used to switch off the TV if Brazil was about to lose a game. He was a loyal Brazil fan.
But he respected my choice and interests as well. No one in my family is an Argentina fan except for my brothers and me. But irrespective of all this, we used to watch matches together and speak about players and the game.
You learned Spanish to interview Messi. Has anybody told you are crazy?
All of those who came to know about my dream had said that I am crazy. I am used to it by now. It neither discourages nor hurts me. I started learning Spanish to understand the interviews of football players. Most of the interviews do not have English subtitles. Interviewing Messi wasn't the only reason I decided to learn Spanish. Messi was one among the many motivating forces. Maybe it was the strongest among all.
But the decision to learn Spanish was wellthought out. After 12th standard, I had realised that I was not interested in medicine or engineering. I was into writing and was fond of arts and literature. It was then that I read about Spanish history and architecture. I was very interested and wanted to learn more about it. That's the reason why decided to join JNU to learn Spanish.
Why is Messi your favourite footballer?
Messi has been an inspiration to me. Maybe because I had liked him from my childhood. But later, when I read more about him, I was fascinated by his story. He beat the odds to become one of the best players in the world. I admire him for the grit and perseverance he displayed in his life to achieve what he has now become.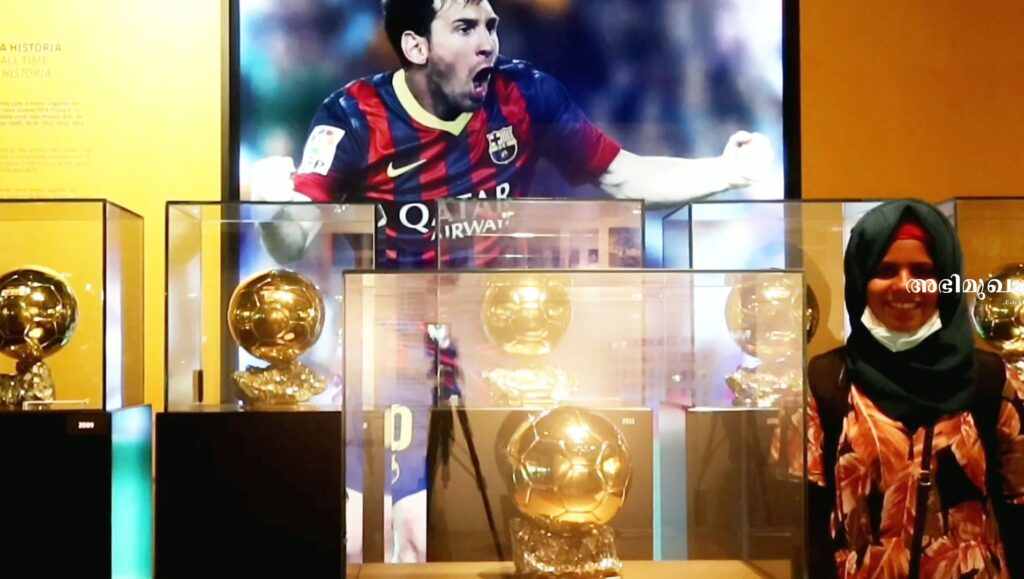 You wrote a letter to Messi in Spanish. What did you write?
My motive to come to Spain was to experience the football here and to see Messi. In the letter I wrote about how he has been an inspiration to me. I wanted to give the letter to him and shared this idea with one of my colleagues. She said that we would inform some media outlets about this. But I didn't want to do that as the chances of getting to Messi were less. Around that time, there was a match at Camp Nou, which is Barcelona's home ground. Awad (husband) and I went to Camp Nou. Messi was playing, and I was so excited and thrilled. I had carried this letter with me.
I was on cloud nine and jumped like a child seeing Messi on the ground. He scored a goal and assisted for two in the match. I had held a big banner in which I had written 'I have a letter for Messi all the way from India' in big size. I used to hold it up whenever I saw Messi looking towards the stands. Another banner read: 'I waited for 13 years to come to Spain; Studied Spanish for six years to write a letter to Messi.' The banners were in Spanish.
After the match, Messi was walking back to the dressing room speaking with his teammates.Suddenly, I felt like Messi was looking towards the side I was holding up this huge banner. I believe he had seen me and read what I had written on the banner.
It was then a person whom I had met outside the stadium told me that if we could take this letter to Barcelona FC's office, it might help. Awad and I rushed to the office of the club, and they greeted us happily. It was such an emotional experience for me that I cried out of happiness. They told me that theycollect all the letters addressed to Messi and deliver it to him. He reads it all but generally doesn't reply.
I was elated and overjoyed. The office in-charge gave me Barcelona's official mail cover to put my letter. I strongly believe Messi would have received the letter and read it.
You are an alumnus of JNU. The university has become a target of continuous and vehement attacks of the RSS and the BJP. Why?
JNU is a very vibrant campus. It has students from almost all parts of the country. The university is an example of the diversity of the nation. Most of the students in JNU are very political. It has space for all and accommodates different views and ideologies with tolerance. Students of JNU analyse, discuss the policies of the government and protest against the wrongs. They raise their voice against injustices.
Finally, what is the status of COVID-19 in Spain? How has the pandemic changed the lives of people there?
Like other European countries, COVID-19 has affected Spain as well. The number of infections and deaths are high, and we had been under lockdown during the period of peak infections. It was tough during those periods. We were not even able to step out of the house. Now, restrictions have been eased, and people can go out. But all are very careful and wear face masks to protect themselves from contracting the virus. Social distancing and other precautionary measures are in place to control the spread of the disease.